Transcription of Press Conference: Andy Roddick ( USA )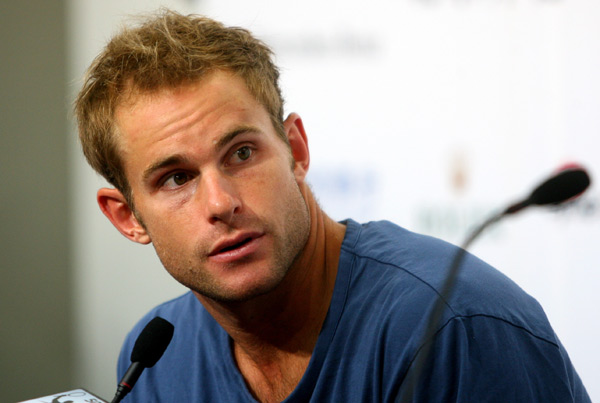 图片来源:中网官方图片社--Osports.cn
  Date: Oct. 6th 2009
  Time: 17:50
  Scores: Andy Roddick (No. 5 seeded player) lost to Lukasz Kubot ( 2-6 / 4-6 ) in the 2nd round.
  Stats:
  Aces: 5Double Faults:4
  1st Serve %::69%1st Serve Points Won:24/41(59%)
  2nd Serve Points Won:5/18(28%)Break Points Saved:4/9(44%)
  1st Return Points Won:8/37(22%)2nd Return Points Won:13/20(65%)
  Break Points Won:5/9(56%)Total Service Points Won:29/59(49%)
  Total Return Points Won:21/57(37%)Total Points Won:50/116(43%)
  Q: Andy, Commiseration. Can you tell us what happened this afternoon?
  A: Not much. I'm going to be making obvious statements here, but I didn't play well. I don't know if I was super prepared. You know, it showed. I was trying stuff out there, and nothing seemed to be working too well.
  Q: Andy, how far into the draw do you think your opponent, Kubot, will go at this point?
  A: At least to the second round. Then I'll keep you posted.
  Q: Serena Williams was just talking about how this is a tough time of the year when your body starts breaking down and things. What do you do to try to keep going tournament to tournament?
  A: Serena Williams, their tour championships are in two weeks, so that's good. Ours are not. It is, it's a tough task. I certainly have not been shy about saying that at a certain point, something's gotta give. There's got to be some time to get yourself right physically and mentally. Right now, that's just not the case, and you're seeing it with Roger and Murray being out in Tokyo and Rafael had a four-month deal. Everyone acts surprised when that happens, but it really, I think the fact that we play all the time and all the sudden something happens, it's really not that surprising.
  Q: In the short term, how are you going to get ready for Shanghai next week? Are you going to have a few days off or are you going to start training again?
  A: I'll just try to practice here in doubles, so I'll try to do as well as I can in that and actually use that as a tool to get prepared. I certainly need to put some time in.
  Q: Andy,although coming into this tournament as the defending champion, but the arena is very fresh to you because you didn't choose to play the Olympics last year, so how do you feel about the new facilities of the China Open?
  A: The facilities here are beautiful. There's no doubt that it's certainly an upgrade. It's certainly impressive.
  Q: Coming to Asian season, after the all 4 grand slams were all finished,what's the new motivations for you coming into these tournament?
  A: I think first and foremost is you try to qualify for masters. That's certainly a goal at the beginning of every year. I missed an opportunity this week, but you certainly want to get confirmed into that tournament sooner rather than later.
  Q: Did your coach come with you?
  A: No.
  Q: During the cooperation with your coach this year, how did you benefit the most and are you going to continue your cooperation next year?
  A: Yeah, for sure. We'll finish. It's been a, save the last two results, it's been an extremely productive year for us. I look forward to regrouping and getting some time together again. For 100 percent we'll do it next year.