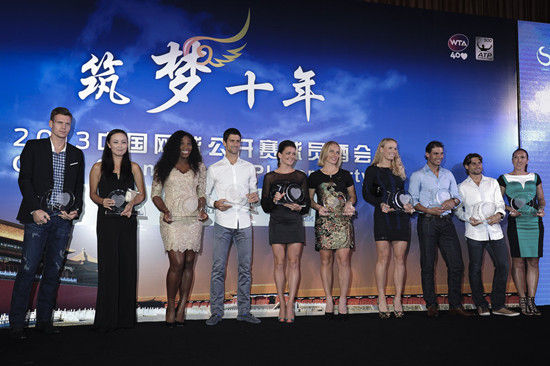 Top tennis players from around the world celebrated China Open's 10th Anniversary at this year's official players' party.
Agnieszka Radwanska and David Ferrer were among the first to arrive at the InterContinental Hotel in Beijing. Players walked up the spiral staircase that led to the "red" carpet (this one happened to be blue) and greeted officials from China Open. After posing for pictures, the players went on to sign a collage of moments from the past 10 years of the tournament.
A "10" made out of balloons decorated the entrance to the party, and balloon animals sat on every table in the room. Black tablecloths covered in plates of cakes and pastries lined the perimeter of the room.
When players walked through the doorway, they could go around the room and look at caricatures of themselves, greet fans, or go to the private VIP area across the room from the stage.
A ceremony celebrating China Open and the players featured remarks from people who made the tournament possible and several videos of moments from past tournaments.
"A decade marks a very special moment for a tournament," said the host of the ceremony. "It has become the symbol of the city. We are so proud of it."
Stacey Allaster, the CEO of Women's Tennis Association, presented an award with Serena Williams celebrating the tournament's 10th anniversary. The plaque read, "Congratulations on 10 Outstanding Years."
Awards were also given to players at the party. Jelena Jankovic and Peng Shuai have competed in China Open for all 10 years and they were given the Commitment Award in recognition of that.
"These awards are not the same at the rosewater dishes, but they are special because they show players' commitment to China Open," said the host.
The Pioneer Award was given to Rafael Nadal and Serena Williams, and Novak Djokovic and Svetlana Kuznecova won the Most Outstanding Award. The Diamond Achievement Award was given to Agnieszka Radwanska and Tomas Berdych.
Caroline Wozniacki won the Star Award, as she has won both a singles and a doubles title in Beijing at China Open.
The Red Carpet Outstanding Performance Award was a crowd favorite, since it was voted on by the photographers and the media. As she was announcing the award winners, the host asked Djokovic if he had the confidence in himself to win the award. He said that he did not, but he won anyway, along with Serena Williams.
The two took the stage to claim their awards, and the rest of the players joined them for a group photo. They laughed together as they held their awards and left the stage, signaling the official beginning of the party.
By Rachel Wrabel